In 2018 the city of Gothenburg started the project of acquiring two new mobile libraries. The initial requirements were that the vehicles would be fully electric and have a low flooring. Another requirement was that the two mobile libraries would be focusing on children and facilitate books for children ages 0-13.
In order to meet the requirements of the new focus the mobile libraries needed to be thrilling and unexpected for children. In collaboration with Volvo and Kiitokori we designed the mobile libraries based on two themes: a fairytale forest and a journey thru space and sea.
The result is two pioneer vehicles that mixes a traditional form of mobile libraries with color, design and shape of imagination and fairytales.
The mobile libraries are part of the Children, Young People & Mobile library unit at the City Library in Gothenburg and through their innovative thinking they challenge what a mobile library can be. The mobile libraries want to give Gothenburg's children the best possibilities for reading wherever they live in the city.
The interior is welcoming and creative with playful furniture and fittings that inspire reading, new knowledge and meetings.
In the mornings, the mobile libraries visit the city of Gothenburg's preschools. About 140 preschools are visited a few times each semester. The public can visit a mobile library every day of the week. Either at one of the 37 stops visited on schedule or at a pop-up stop!
To promote outreach and reading, the mobile libraries visit places where many children live and play. During the summer, we show up in places around the city where we know many children and families are. The buses make library services available to users who live far from a library and adults are of course also able to use the mobile libraries.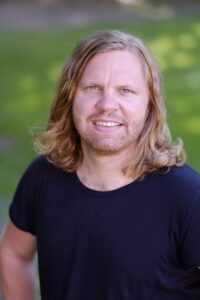 Zur Person
I have been working with Gothenburg's mobile libraries since 2014. In 2019 I was the project manager for our two new electric mobile libraries. The project consisted of planning an ordering the buses and communicating with Volvo and Kiitokori during production. But foremost the project also meant renewing the way we operate mobile libraries in Gothenburg. The old operation was focused on adult patrons and the stops and routes had been unaltered since many years. Introducing popup stops and weekend routes was some of the actions to renew the operation.